Jessi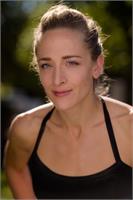 Jessi is a Fitness Trainer, Nutrition Coach, Private, Group and Online Instructor & Pilates Goddess. She has been teaching & sharing her passion for over 15 years. Her style draws from her knowledge of movement combined with her playful demeanor, colorful cues and an absolute zest for helping students reach their full potential through movement. Jessi studied under Romana Kryzanowska who studied under Joseph Pilates. In the last 15 years Jessi has worked with competitive athletes, celebrities and advanced students. She looks forward to bringing her challenging workout catered to the athlete is all of us.
Jessi instructs the following:




"Sparta, Rome, the Knights of Europe, the Samurai. They worship strength, because it is strength that makes all other values possible." Need we say more? Embrace your inner Bruce Lee in this intense reformer class and join the ranks of legend...


Class names & descriptions are strictly for fun!

All classes are taught at an intermediate to advanced level. If you have any questions or concerns about participating in class, please call the studio at 415-567-9009 for additional information.