BREAK OF DAWN • MAT
This class is taught by: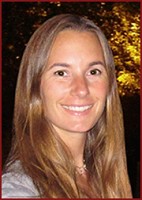 Cheyanne is a sunny SoCal girl who loves the water. After taking Pilates for over 10 years, Cheyanne certified under Lisa Schlaeger in Orange County. Her approach focuses on challenging clients to transform their bodies through precision and deep, detailed movements all while working them to the bone.

Cheyanne is an avid traveler who has hiked the Andes mountains in Peru and the Himalayan mountains in Nepal. Her next conquest is Mount Kilimanjaro in Africa.

Get your butt up and bring your best Bed Head - this early morning mat class is better than a La Boulange triple espresso, guaranteed to wake you up while widdling you down. No shower required, but do us all a favor and brush that grill.


Class names & descriptions are strictly for fun!

All classes are taught at an intermediate to advanced level. If you have any questions or concerns about participating in class, please call the studio at 415-567-9009 for additional information.
Upcoming classes: